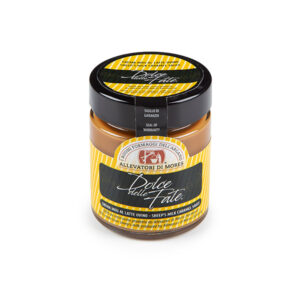 Sheep's milk caramel sauce
Characteristics
Caramel sauce without preservatives or colourings, GMO free, sweet and creamy, obtained by boiling whole sheep's milk, and only adding sugar. The caramelised milk has balanced and lingering taste, evoking the taste of the wholesome milk from flocks that roam the pristine green pastures of the island of Sardinia. It is soft with a taste reminiscent of toffee, delicate and fragrant with an intense and inviting aroma, soft and spreadable. Soft with a creamy texture and delicious taste. It can be spread on bread, or used as a topping on ice cream and yoghurt; it can also be used to embellish parfaits, or as a filling for chocolates, cakes and biscuits. It can also be eaten as a spoon dessert to savour its delicious, natural taste.
Ingredients
Sheep's milk, sugar, glucose syrup, acidity regulator E500.
Maturing
Ready for consumption a few hours after production.
Packaging
Glass jar – 150 g. Plastic bucket – 2 kg.